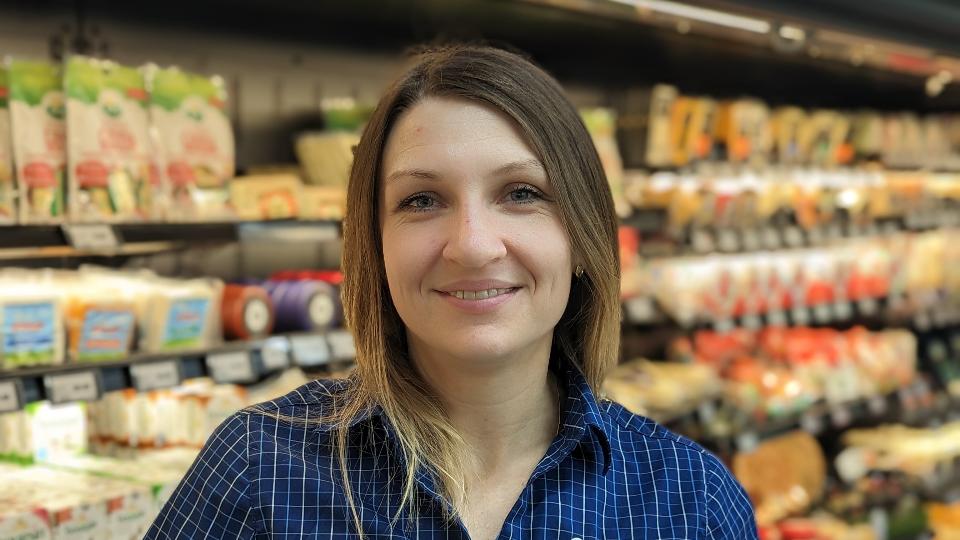 Kat's Co-op Story
April 26, 2023
A familiar face has returned to the Brandon Food Store. Kateryna Doboshynska was recently welcomed back as Deli Manager, and we couldn't be more excited! Kat's Co-op story is one of constant learning and taking on new challenges.
Kat's Co-op Story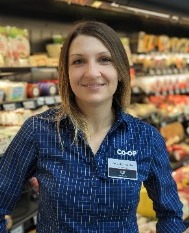 Co-op was Kateryna's second employer in Canada after immigrating from Ukraine two and a half years before. Kat started her career in the Co-op system in 2014 at Neepawa-Gladstone Co-op where she started as a bakery/deli clerk before quickly moving into the role of supervisor. "I remember now I asked for the department with less interaction with customers because of my English, but I think they had other plans for me, and I got a position as a bakery/deli clerk where I had to talk to customers every five minutes. I'm really thankful for it, as it was a challenge and without it, I wouldn't be where I am now", Kat said.
In just over a year, she was promoted to bakery/deli Manager before moving to Brandon and taking a position with Heritage Co-op. Kat eventually moved into file maintenance before starting with Heritage Co-op's Petroleum Division and taking the C-Store and Petroleum Advanced Management Training Program. She then became a supervisor at the Western Nations Gas Bar in Brandon, a position she held until her recent move to the Brandon Food Store as Deli Manager.
"I'm happy to have gained all this knowledge in Petroleum sites but I am also happy to be back at the Food Store and continue my journey with Co-op." Kat shared.
On Her Time With Co-op So Far

When we asked Kat what has kept her with Co-op for so long, she shared this story:
"At my first Deli Clinic in Winnipeg, it started with an introduction and question "How long have you been in the CRS system?". Some answers I heard, I couldn't believe my ears, it was 15, 25 even 30 years working for Co-op. I thought "How people can work for so long for one company?". But now after 9 years, I understand why. It's different from any other company, it's a big working family. It's a company that cares, that listens and believes in you more than you sometimes believe in yourself. This company gave me a ticket to new life in a new country and believe me, it's not that easy."
Kat is proud to be a Co-op Team Member. She enjoys the people she works with, the innovation she sees in product lines and seeing happy Guests walk out of the stores. To those that have supported her journey so far, she says, "Thank you for believing in me! Thank you for everything!"

Kat's Advice to Others

Kat credits hard work and a positive attitude for her success with Co-op. She took on extra tasks without being asked, from extra cleaning to learning about reducing markdowns. When first asked to apply for a supervisor position, she laughed, "I didn't believe in myself enough, I just was doing my job.". Kat has also taken on training opportunities through Co-op, including two Advanced Management Training Programs, and shorter courses on Guest service, financial statements, management and communications. "I believe there's always something new to learn and it's never too late."
Kat's main advice? "Work hard, believe in yourself and this company."
For more information on current career opportunities, visit our Job Board.