Fuel Good Day Raises $15,800 for Local Food Banks
Actions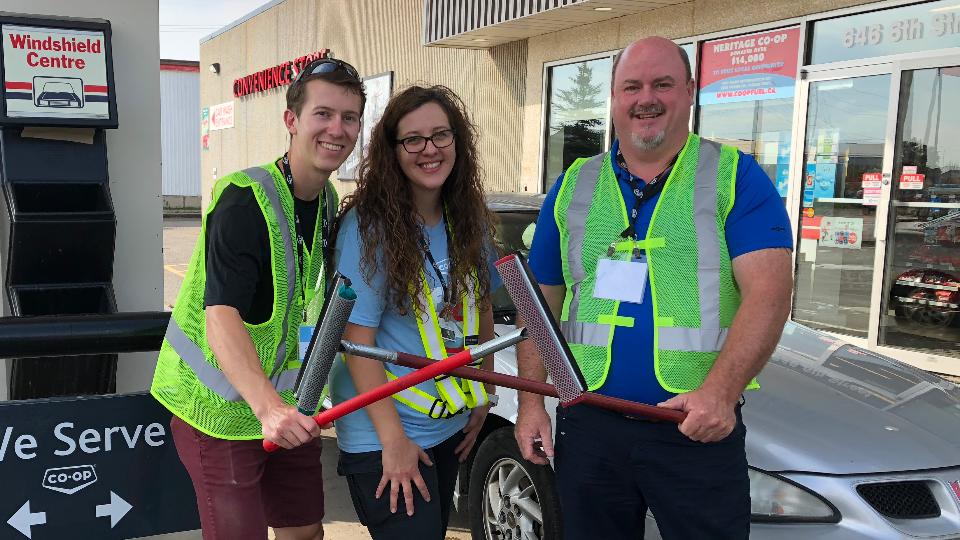 Fuel Good Day Raises $15,800 for Local Food Banks
September 26, 2019
Thanks to your support, we will donate $15,800 to local food banks as part of Fuel Good Day held on September 17. During that day, we committed to donating 10 cents from every litre of gasoline and diesel and $1 from every Co-operative Coffee and Big Cool purchased at all Heritage Co-op Gas Bars to local food banks.
Fuel Good Day showcases what we are all about as a Co-op — giving back to the community and supporting local initiatives, like our food banks that are working to address the needs of our communities. We care about our communities and what our community members care about. Our members and customers showed up in a big way for Fuel Good Day, and proved what we can accomplish when we all work together.
As part of Fuel Good Day, we invited community leaders in each community to take a 'shift' washing windshields to amplify the excitement surrounding the charitable fundraiser. Fuel Good Day is about our communities and for our communities, and bringing local community leaders to volunteer is a great way to involve more of the community. We appreciate the enthusiasm and support of each of the people who added to the fun and excitement of the day.
We will split the total donation between food banks serving each of our communities and present these funds to each food bank during Co-op Week (October 15-18).

Fuel Good Day was celebrated at more than 400 Co-op Gas Bars throughout western Canada with a total of $685,000 raised to support a community organization or initiative local to their area. Since 2017, Fuel Good Day has contributed nearly $1.9 million to local charities and non-profit organizations across Western Canada.