Giving back over the holidays
Actions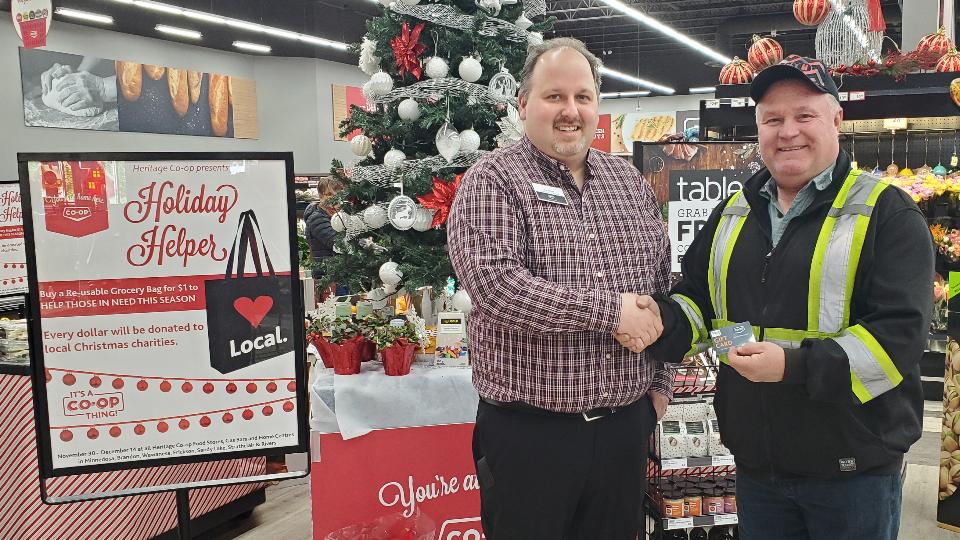 Giving back over the holidays
December 27, 2019
Heritage Co-op believes in the importance of giving back to our community, and the holidays offer a fantastic opportunity to work with our customers and employees to give back.
Throughout the year, every time reusable bags are used at our food store check-out we donate 3 cents to a local food bank as part of our Bags to Riches program. Thanks to your help bringing your bags in, this year Heritage Co-op donated a total of $3900 to six local food banks, aiding this crucial service in providing food to those who need it.
In 2019 we tried something new, for every reusable Love Local bag purchased for $1, a dollar is donated to a local Christmas Cheer board through our Holiday Helper program. Purchases of Lovel Local bags not only help us to cut down on single use plastics, they fundraised $2680 in total donations for six local Christmas Cheer boards. These donations helped those organizations make sure our neighbours in need can celebrate Christmas with a holiday meal.
We're also very proud of our staff who brought personal care items for donation to our staff holiday party. We had the pleasure of bringing several large boxes filled with personal care items to the Samaritan House the next week, they truly appreciated your donations.
Heritage Co-op is honored to support our community, especially during the holiday season and looks forward to continuing this support in the new year. We hope your holidays were filled with the joys of the season.

Discover more: