Meet Heritage Co-op's Pharmacy Team!
Actions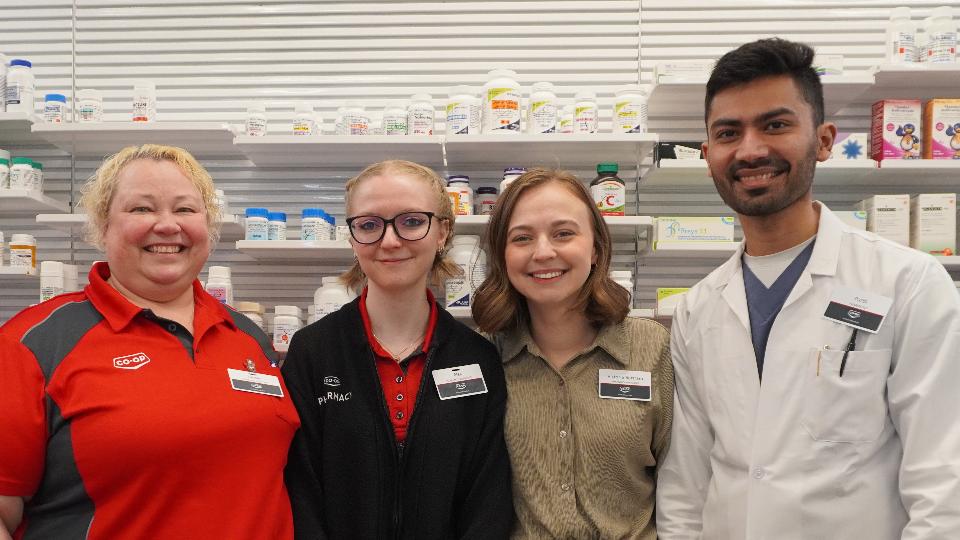 Meet Heritage Co-op's Pharmacy Team!
March 22, 2023
Heritage Co-op is proud to introduce our Pharmacy Team at our Brandon Food Store, including Pharmacy Manager Victoria Bertram and Pharmacist Parth Shah. Victoria and Parth are supported by Pharmacy Assistants Nicole McCallum and Alex Sveinson.
Victoria joins us from a Pharmacy in Roblin, and some of our Guests may recognize Parth from another Brandon Pharmacy location. Both Pharmacists look forward to building relationships with the patients, "That patient connection, when someone comes back month after month and you get to celebrate life with them, I think that's really special.", said Victoria.
Parth and Victoria shared that this is an exciting time for Pharmacy, Pharmacists in Manitoba can now help with prescribing for UTIs as well as other minor ailments, helping keep people out of clinics and urgent care facilities. "The pharmacy world is growing and we're trying to help the Doctors out," said Parth.
Guests can request their prescriptions be transferred over to the Brandon Food Store Pharmacy by speaking to our Pharmacy Team. Heritage Co-op Members earn equity on their purchases, including those made at the Pharmacy.

Pharmacy Hours:
Monday — Friday 9AM-6PM
Saturday — 9AM-5PM
Sunday — Closed

Discover more: