How Lori Expanded Her Role with Heritage Co-op
Actions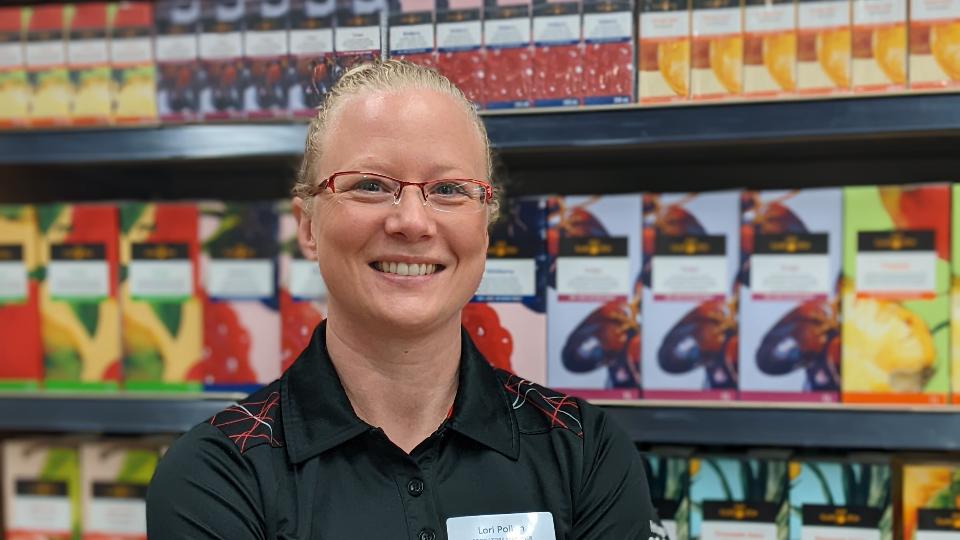 How Lori Expanded Her Role with Heritage Co-op
June 6, 2022
Sometimes life takes you in a bit of a different direction. Currently the Manager at our Minnedosa Food Store, Lori Pollon's career did begin with a focus on food, just not grocery. Lori graduated from Assiniboine Community College's Culinary Program in 2005, and at that time had been working in the restaurant industry, initially in the kitchen before moving to front of house and a Management role.
Born and raised in Minnedosa, when the local Bakery Manager at the time reached out to Lori about a position, she jumped at the chance, "Newly engaged, I was looking for something with no commute and a better work life balance. Pension, holidays, and benefits were a huge calling card.".
Lori started as a Bakery Deli Supervisor in 2008 before moving into the role of Produce Manager in 2013. In 2019 she took on the position of Location Manager at the Minnedosa Food Store. Lori has excelled in each of the opportunities thanks to a strong work ethic and training offered through Federated Co-operatives Ltd. Lori isn't stopping there, "My hopes for my future at Co-op is to gain more and more experience and excel at the role I hold today."
Lori's attitude for excellence is one she looks for in her Team Members as well, "At Heritage we look for Team Members that display our building blocks: integrity, responsibility, and excellence. To be hardworking, honest, reliable, and dedicated. To get along with others and above all treat each of our Guests with respect and excellent service."
Thinking of joining the Heritage Team? Lori urges you to go for it, "I would recommend Co-op to anyone! Great group of people, competitive wages, flexible schedule and lots of perks." For those looking to move up within Co-op, she has some advice, "Work hard, do things with out being asked, and help when you can, even if it's not your department. Be nice to everyone and learn as much as you can. The more you know, the more you can do. The more you can do, the more you can take on."
Heritage Co-op strives to offer opportunities and training to help our Team Members grow in their roles and within the Co-operative Retailing System. To learn more about or apply for open positions, please head to our Job Board.